Tony's Delicatessen & Fresh Meats has proudly been the premier meat market, butcher and delicatessen for Williamsport, PA since 1977. We specialize in freshly cut meats, imported cheeses, homemade baked goods, fresh-cut fruit and cookie trays, and more!
Butcher Shop, Deli, & Bakery in Williamsport, PA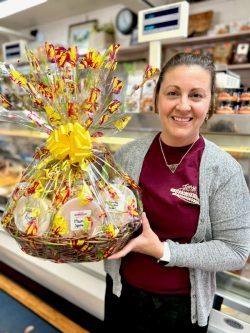 Whether you're looking for heat and serve meals, deli meats, or gift baskets, your destination is the same: Tony's Delicatessen & Fresh Meats! We're your local area deli service and butcher shop in Williamsport, PA, providing you with the freshest foods and highest-quality products. From cold cuts to gourmet cheeses, fresh bakery items to carefully-arranged gift baskets and more, customers come to us for a level of excellence that you won't find at any grocery store! Plus, with friendly faces behind the counter and decades of experience behind us, you're guaranteed a customer experience that's personable and enjoyable.
As an experienced butcher and deli in Williamsport, PA, we know what it means to provide customers with an exceptional product. Our meats are literally a cut above the rest, our bakery items are mouth-wateringly delectable, our produce is always freshly-picked, and our heat and serve meals are produced with care. We even take the time to arrange gift baskets based on your needs! We aim to be your trusted partner for feeding as many mouths as you're responsible for. We invite you to call us or stop by today to see why, for more than 40 years, we've been the go-to meat market and deli service for gourmet food in Williamsport, Garden View, or Lycoming County, PA.
We've been family-owned and –operated since 1977, proudly serving the Williamsport, PA community.
We keep it "fresh" with adding seasonal delicacies. Call us today to see what we have!
We make and prepare all of our spreads, entrees, platters and meats in-store, to ensure you're getting the freshest product possible!
We're proud members of our local Chamber of Commerce.
Meat to Produce – We've Got You Covered
From meats and cheeses to bakery and fresh produce, we've got everything you're looking for when mealtime rolls around. Visit today or call to place an order with us.